The Best Scuba Diving Spots In South Africa
August 20, 2020
South Africa is a diverse, multicultural nation with a 2735-kilometer coastline that borders two oceans, the Indian and Atlantic Ocean. South Africa's waters "signal" scuba divers to enter its turbulent waters. The dive experience here is as varied as it can provide an abundance of opportunities for the different kinds of diving personalities, from macro photographers to Tec divers! You will find some of the most tropical reefs in the Northeast and temperate rocky reefs in the West. Some of the best diving in South Africa involves colder water, strong currents and launching from the surf. As a certified PADI instructor, I can vouch for the fact that you need to add these South African spots to your scuba diving bucket list. 
7 Mile, Sodwana Bay, Kwa-Zulu Natal
Sodwana Bay is named to be one of the most popular diving spots in the world, located in Kwa-Zulu Natal and situated in one of the South Africa's world heritage sites, Isimangaliso Wetland Park.
There are more than 95 species of hard and soft corals, 1200 species of fish, turtles, manta rays and so much more! Sodwana is famously known for rare sighting of the coelocanth in the year 2000 after they were believed to be extinct around 70 million years.
7 Mile reef is one of Sodwana's most popular dive sites. Drop on the Northern Wall and explore the Amphitheatre and dive along the inside edge passing by little swim-throughs and gullies that is home to a huge diversity of fish and invertebrate life. Look out in the open waters for passing pelagic and massive shoals of fish. On the western side of the wall there is the famous Green Coral Tree that is home to a vast amount of sea goldies and other small reef fish. To name more about this spectacular reef will take up too much space!
¼ Mile reef is home to gestating ragged-tooth sharks during the summer seasons (January- February) where the Indian Ocean water is at its warmest temperature.
Cathedral, Aliwal Shoal, Kwa-Zulu Natal
Cathedral is Aliwal Shoal's famous dive site and is definitely a favourite for underwater photographers and nature lovers. It features dramatic topography that is the perfect reef home for the astounding variety of marine life. It has a natural open roofed Amphitheatre that measures 20-metres in diameter. It also holds the best opportunities to see the humpback whales on their annual migrate north.
Grootbank, Plettenberg Bay, Western Cape
Grootbank is an extensive reef that is celebrated for its striking topography and rich marine life. There are a number of caves, swim-throughs and drop-offs that create an impressive maze where ragged-tooth sharks can be spotted. The reef is unspoiled with a vibrant array of soft corals, sponges, sea fans and vibrant starfish. Grootbank is known to home red roman, yellowbelly rock cod and pyjama shysharks.
Storms River Mouth, Mossel Bay, Western Cape
Mossel Bay is a harbour town, which is named the second most moderate climate in the world. It boasts about 320 sunny days in the year, that being similar to a small town in Hawaii.
Storms River Mouth is all about their radiant reefs and big fish. It is also possible to dive this site at night, which is a whole new experience and very exhilarating!
And for the real adrenaline junkies, Mossel Bay is known for shark cage diving where one can observe great white feedings.
Pineapple, Rocktail, Kwa-Zulu Natal
Rocktail is South Africa's exclusive diving spot, which is also ranked as one of the best places in the world to dive. This special area is a World Heritage Site situated in the Maputuland Marine Reserve, where marine life has been protected for years and it is a privilege to be able to dive here.
Pineapple reef is a long dive site that begins narrow, with sand on either side, which widens out to form wonderful coral reef areas and ledges. It is the first reef where the Pineapple fish was found, which can be sighted during the summer months. 4 or 5 different Potato Bass individuals are produced on the dives and they adore attention from divers and come up close and personal to receive a stroke and tickle under their chins! Pineapple is home to a variety of anemone's with clownfish, domino fish, porcelain crabs and partner shrimps; honeycomb, blackcheek, geometric moray eels; honeycomb and sharpnose stingrays often rest on the sand; big schools of fusiliers, coachmans, scads, surgeonfish, red fang triggerfish, chubbs, christies and slinger; nudibranches, paperfish, ghost pipefish, tiger and egg cowrie shells; grey reef and tiger sharks are often seen in summer.
Clifton Rock, Clifton, Western Cape
Clifton Rock is an inshore rocky reef that is situated on the Atlantic Seaboard near Clifton making it a shore dive. It is rated as one of the most popular dive sites for its independent approach and social atmosphere. The topography is made out of granite corestone boulders that rise 5-metres above water! It has fun swim-throughs and lots of secret spots filled with marine life such as nudibranches, starfish, soft sponges and crayfish.
A-Frame, Simons Town, Western Cape
A-Frame is a popular dive site located 5 kilometres south of Simons Town. It is said to be named after the small cave entrance shaped in an A. It as an easy dive site to access from the shore, which makes it a perfect location for a night dive.
The rock at the back of A-Frame leads into a small cave swim-through and is the ideal spot to see larger animals such as seals, shysharks and rays! A-Frame is perfect for macro photographers as the surrounding boulders are blooming with life.
Protea banks, Shelley Beach, Kwa-Zulu Natal
Protea Banks is a unique reef system with exquisite topography. The reefs are home to a variety of game fish such as barracuda, snappers, tuna and kingfish, which attract a wide variety of predators being bull sharks and tiger sharks, to name a few. One is guaranteed to see up to 5 different shark species on one dive! During the warmer season between September and January, hundreds of hammerheads make their appearance. In the winter season, the ragged-tooth sharks congregate on Protea Banks to mate before the female's head up to ¼ Mile reef in Sodwana Bay to gestate.
It is definitely a must see.
Evans Peak, Port Elizabeth, Eastern Cape
Evans Peak has been rated as one of the top 10 coldest dive sites in the world, but don't let that deter you. It is also considered to be one of the most magnificently beautiful diving spots to visit in the world.
Evans Peak gets its name from the two towering reefs which surface 15-metres above the water. The reefs gradually become narrower as you descend to 40-metres deep. It is the ultimate visual experience for any seasoned diver and is incredibly rich with sea life.
Port Elizabeth is the hot spot for the Sardine Run. One can take part in exhilarating diving experience with the Sardines, known to be the biggest shoal on earth, during their run up the coast between mid April and mid May. Southern Right Whales are also often spotted between October and February.
Mozambique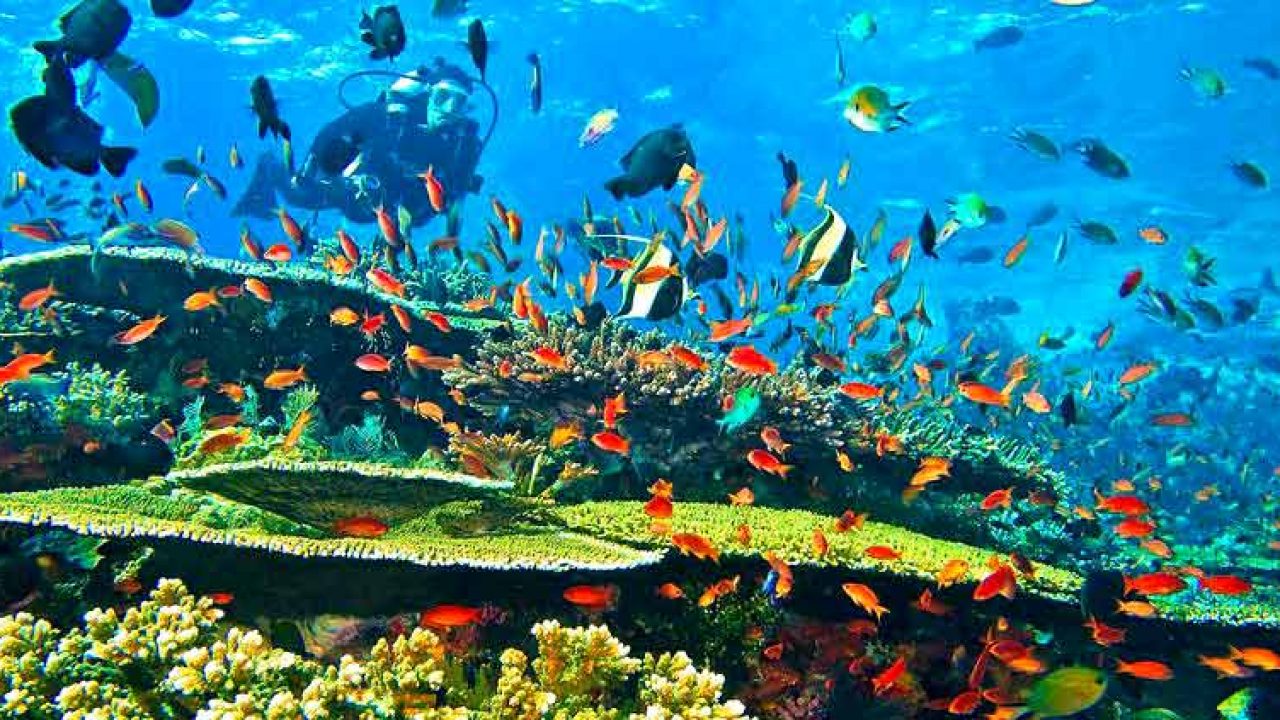 Situated at short 10km from the South African border, Mozambique is nothing short of spectacular and can easily be named as one of the largest marine capitals in the world. Mozambique reefs are in excellent condition and are home to a wide range of marine life. Mozambique has beautiful beaches and green dune forests and a laid-back atmosphere.
The dive sites are versatile and offer great opportunities for divers. It is home to turtles, barracuda, mackerel, bull sharks, hammerhead sharks, whale sharks, batfish, frogfish, manta Rays, cleaning stations, crocodile fish, lionfish and a whole lot more colourful and different species.
Be sure to have a 4-Wheel Drive when you cross over the South African Boarder at Kosi Bay to visit the prestigious Mozambique!